LT Dale Pettenski, USN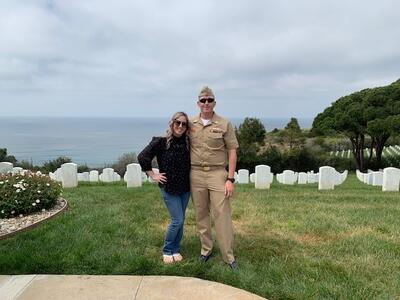 Surface Warfare Officer
dale.pettenski@yale.edu
Lieutenant Dale Pettenski is currently assigned as a Naval Science Instructor at NROTCU Yale University. Hailing from Rochester, New York; He received is BS in Fish and Wildlife from Paul Smith's College and a MS in Watershed Hydrology at SUNY Brockport. Lieutenant Pettenski commissioned via Officer Candidate School in 2015.
His sea tours include: Electronic Warfare Officer onboard USS SHOUP (DDG 86) out of Everett Washington and Fire Control and Ballistic Missile Defense Officer onboard USS Higgins (DDG 76) out of Naval Base San Diego. In 2017, LT Pettenski deployed with the Nimitz Strike Group in the 5th/7th Fleet AOR in support of Operation Enduring Freedom.
LT Pettenski is married to his wife, Michelle Pettenski of Mesa, Arizona. They have two dogs, Lilly (12) and Timber (8). They live in Southington, Connecticut.
LT Samantha Barszowski, USN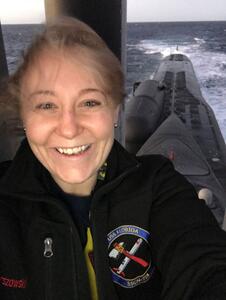 Submarine Warfare Officer, Nuclear Power Officer
samantha.barszowski@yale.edu
Lieutenant Samantha L. Barszowski was born and raised in the suburbs of Philadelphia, PA. She graduated from the University of Pittsburgh in 2015 with a Bachelor of Science degree in Mechanical Engineering and minors in Chemical and Nuclear Engineering. She earned her commission from the Steel City NROTC Unit in August 2015 and was designated a Submarine Warfare Officer.
Lieutenant Barszowski reported to Nuclear Power School in Charleston, SC in October 2015. Following NNPTC, she completed Submarine Officer Basic Course in Groton, CT. She then returned to Charleston, SC to complete the training pipeline at Nuclear Training Prototype Unit aboard the MTS-626.
Lieutenant Barszowski reported to her first boat, USS FLORIDA (BLUE) (SSGN 728) at NSB Kings Bay in March 2017, where she served as the Electrical Officer and the Tactical Systems Officer. She completed two AFRICOM deployments during which she supported missions vital to national security.
Upon completion of her first sea tour, Lieutenant Barszowski split-toured to the USS SAN FRANCISCO (SSN 711), where she served as the command's Executive Assistant. The SAN FRANCISCO is in the final stages of its conversion to a Moored Training Ship (MTS) which will train the Navy's future nuclear operators at NPTU Charleston.
In December 2020 Lieutenant Barszowski reported to the Naval ROTC Unit at Yale University as an Assistant Professor of Naval Science and the Nuclear Programs Officer.
Lieutenant Barszowski's awards include the Marine Corps Commendation Medal, Navy and Marine Corps Achievement Medal, and other unit and campaign awards. She is also a certified Resilience-Building Leader Program™ Coach.
Capt Ratsamy May, USMC
-photo missing-
Marine Officer Instructor
ratsamy.may@yale.edu
GySgt Chaz King, USMC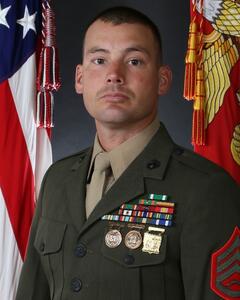 Assistant Marine Officer Instructor
chaz.king@yale.edu
Gunnery Sergeant Chaz C. King was born on 26 September 1989, in Shelby, North Carolina.  He reported to Recruit Training at Marine Corps Recruit Depot, Parris Island, South Carolina, June 2008, was meritoriously promoted, and graduated September 2008. Private First Class King then reported to Marine Combat Training at Camp Geiger, North Carolina. Private First Class King then attended Military Occupational Specialty School for Basic Combat Engineer in Camp Lejeune, North Carolina. Subsequent to completing training, PFC King was assigned to Bridge Company, 8th Engineer Support Battalion, Camp Lejeune, North Carolina for duty.
PFC King was promoted to Lance Corporal in August 2009. LCpl King deployed to Afghanistan in support of Operation Enduring Freedom with Combat Logistics Battalion 6, Regimental Combat Team 2 from January 2010 to August 2010. Lance Corporal King was promoted to Corporal in November 2010. From July 2011 to November 2011, Corporal King deployed in support of Korean Integrated Training Program with Engineer Company, 8th ESB. Corporal King was meritoriously promoted to Sergeant in November 2012.
In May of 2013, Sergeant King reported to Combat Logistics Battalion 3. In June 2014, Sergeant King reported to Sergeant's Resident Course where he was nominated as the Honor Graduate by the Staff Non-Commissioned Officer Academy in Kaneohe Bay, Hawaii. Sergeant King served as Squad Leader, Construction Chief, and Platoon Sergeant for Combat Engineer platoon, Engineer Support Company, CLB-3 in support of 3rd Marine Regiment during continuous rotations of Lava Viper, Integrated Training Exercises, and Unit Deployment Program Hawaii from July 2014 to March 2016. In February 2016, Sergeant King competed in the Competitive Marksmanship in Arms Program and was selected to represent Marine Corps Base Hawaii in competitive shooting matches earning individual rifle, pistol, and team rifle badges during Pacific Division competition. Sergeant King reported to Drill Instructor School, Parris Island, South Carolina, in April of 2016.
Sergeant King reported to Recruit Training Regiment in August 2016 and was assigned to Bravo Company, First Recruit Training Battalion where he served as a Drill Instructor. Sergeant King was promoted to the rank of Staff Sergeant in October 2017. Staff Sergeant King then served exclusively as Disposition Chief, Family Readiness Officer, Substance Abuse Counseling Officer, Alcohol Screening Program Coordinator, and Community Counseling Program Coordinator simultaneously. Staff Sergeant King was assigned to Company C, where he served as Senior Drill Instructor. Staff Sergeant King was selected as Senior Drill Instructor of the RTR, Eastern Recruiting Region in April, 2019.
In August 2019, Staff Sergeant King reported to 2D Combat Engineer Battalion and assigned to Company A. Staff Sergeant King completed Combat Engineer Platoon Sergeant's course in December 2019. Upon completion of training, Staff Sergeant King served as Platoon Guide in direct support of 1st Battalion, 2nd Marine Regiment during Unit Deployment Program 20.2. Staff Sergeant King was promoted to the rank of Gunnery Sergeant in May 2021 and served as the Platoon Sergeant for Alpha Company 1st Platoon in support of 2d Marine Regiment.
Gunnery Sergeant King's personal decorations include the Navy and Marine Corps Commendation Medal with gold star in lieu of second award, Navy and Marine Corps Achievement Medal with gold star in lieu of second award, Military Outstanding Volunteer Service Medal, and Drill Instructor Ribbon.
Gunnery Sergeant Sergeant King is married to Jeanne King and has two children; Ian D. King (13) and Leilani L. King (9).