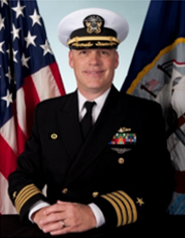 CAPTAIN RONALD L. WITHROW, USN
COMMANDING OFFICER
YALE NROTC
(203) 432-8223
ronald.withrow@yale.edu
CAPT Ron Withrow, a native of Ohio, enlisted in 1985 in the Naval Nuclear Propulsion Program.  From 1990 to 1994, he served aboard USS ENTERPRISE (CVN-65) as the Reactor Laboratories Leading Petty Officer and the #1 Plant Reactor Mechanical Leading Chief Petty Officer.
In 1994, he was accepted into the Enlisted Commissioning Program, and graduated Magna Cum Laude from the University of South Carolina in 1996 with a Bachelor of Science Degree in Marine Science.  He is a member of the Phi Beta Kappa Academic Honor Society and Who's Who Among American Universities and Colleges.  In 2004 he received his Masters in Engineering Management from Old Dominion University.
CAPT Withrow's sea tours include USS RHODE ISLAND (SSBN 740 (Blue)), USS VIRGINIA (SSN 774), USS ALASKA (SSBN 732 (Blue), COMDESRON TWO FOUR deployed aboard USS SPRUANCE (DD 963) and USS ROOSEVELT (DDG 80), and Chief of Staff to Commander, Carrier Strike Group TEN deployed aboard USS DWIGHT D. EISENHOWER (CVN 69). 
CAPT Withrow was privileged and honored to lead the warriors of PCU SOUTH DAKOTA (SSN 790) as the first commanding officer. 
His shore assignments include Director, Naval Reactors Fleet Liaison Engineer Officer,  Commander Submarine Squadron FOUR Material Officer, Fleet Representative to the Naval Nuclear Propulsion Program design agencies responsible for developing the COLUMBIA-Class nuclear propulsion plant, Commander Submarine Group TWO Deputy Chief of Staff for Engineering Readiness, and Commander Submarine Development Squadron TWELVE Tactical Analysis Group Fleet Exercise Analysis and Tactical Security Department Head, and Chief of Staff to Commander, Carrier Strike Group TEN. 
In August 2020 CAPT Withrow assumed command of the Naval ROTC Unit at Yale University. 
CAPT Withrow has received many personal decorations, but is most proud of the unit awards recognizing the high-performance teams he has served with, including three Battle Efficiency "E" awards, the Meritorious Unit Citation, the Navy Unit Citation, and two Omaha Trophy Awards.
He is married to the former Shalene Brooks of Saratoga Springs, NY.  Together they have four children and six grandchildren.