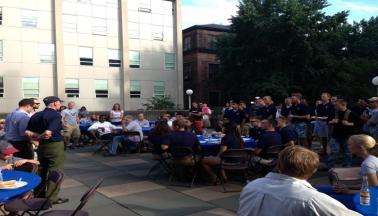 Yale Veterans Association (YVA) and Yale midshipmen celebrating the reestablishment of Yale ROTC after 40 years of absence.
Whether you're currently serving in the Fleet or haven't worn the uniform in 20 years we'd love to hear from you.  If you have photos, newsletters, or other mementos from your time as a Yale NROTC Midshipman or as a student at Yale and are willing to share them with us, please let us know. 
The Yale NROTC Unit invites alumni to contact the unit at 203-432-8223 or nrotc@yale.edu.  By sharing your email address with us, we will be able to send you information pertaining to unit events and future Yale NROTC Newsletters.
Are you separating from active duty or are you a veteran interested in a Yale Graduate School? Please visit https://gsas.yale.edu/ to learn more about available fellowships and programs.