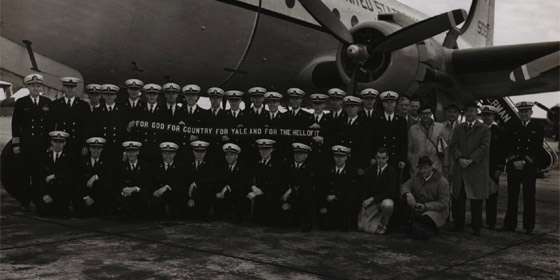 One of the original six NROTC units established in 1926, the Yale NROTC has a long history and tradition of service to our country. 
Throughout World War I, World War II, Korean War, and the Vietnam Conflict, Yale alumni and faculty served their country in the Army, Navy, Marine Corps and Air Force.
Of the almost 30,000 Yale alumni who served in those conflicts, 796 lost their lives in combat. Their names, classes, and records of service are inscribed on the World War I memorial in Hewitt Plaza and in the rotunda of Woolsey Hall, alongside those honoring similar sacrifices dating as far back as the American Revolution. 
Today the Unit continues the tradition of preparing young men and women to serve as officers in the United States Navy and Marine Corps. Students commissioned through the Yale NROTC program will go on to serve in leadership positions onboard ships, submarines, in aviation squadrons, special warfare and special operations units, and in the Marine Corps.