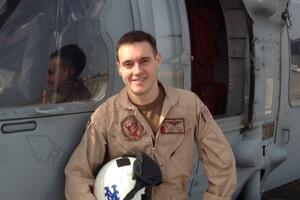 COMMANDER SCOTT M. RYAN, USN
EXECUTIVE OFFICER, AVIATION WARFARE OFFICER
YALE NROTC
(203) 432-5420
scott.ryan@yale.edu
Commander Scott M. Ryan was born in White Plains, New York and grew up in Bedford Hills, New York.  He graduated from the State University of New York Maritime College in 2001 with a Bachelor of Science degree in Marine Transportation, earned his commission through Reserve Officer Training Corps in May 2001, and was designated a Naval Aviator in August 2002.
Commander Ryan reported in April 2003 to the "Dragon Whales" of Helicopter Combat Support Squadron EIGHT, HC-8, at NAVSTA Norfolk, VA, flying the MH-60S Knighthawk.  After completing a Mediterranean and Arabian Sea deployment in 2004, HC-8 was redesignated as Helicopter Sea Combat Squadron TWO EIGHT, HSC-28, in 2005.  Commander Ryan deployed again to Naples, Italy in support of SIXTH FLEET operations.
Commander Ryan's first shore tour in 2006 was as an instructor with the "Fleet Angels" of Helicopter Sea Combat Squadron TWO, HSC-2, the MH-60S East Coast Fleet Replacement Squadron, at NAVSTA Norfolk, VA.  While assigned to HSC-2, Commander Ryan earned his Executive Master of Business Degree through the Naval Postgraduate School's distance learning program.
He next reported to USS DWIGHT D. EISENHOWER (CVN 69) as an Aircraft Launch and Recovery Officer, or "Shooter," and deployed in 2009 and 2010 to FIFTH FLEET, in support of Operation Enduring Freedom.  Following his disassociated sea tour, Commander Ryan attended the College of Naval Command and Staff at the Naval War College in Newport, RI earning a Master of Arts Degree in National Security and Strategic Studies in 2011.
In 2012, Commander Ryan reported to the "Chargers" of Helicopter Sea Combat Squadron TWO SIX, HSC-26 at NAVSTA Norfolk, VA for his Department Head tour, serving as the Safety Officer, Tactics Officer, and Maintenance Officer, deploying as Officer-In-Charge of HSC-26 DET 1, the "Desert Hawks," in Manama, Bahrain in support of FIFTH FLEET operations.  In December 2015, Commander Ryan served as the Operations Officer in Helicopter Sea Combat Wing Atlantic at NAVSTA Norfolk, VA for all East Coast HSC and HM rotary wing squadrons.  
In 2018, Commander Ryan reported to USS ABRAHAM LINCOLN (CVN 72) as the Combat Direction Center Officer and deployed in 2019 to FIFTH FLEET.  Commander Ryan returned to the Naval War College in February 2020, attending the College of Naval Warfare and graduated in March, 2021. 
In June 2021 Commander Ryan reported as Executive Officer of the Naval ROTC Unit at Yale University.
Commander Ryan has accumulated more than 2,100 flight hours in the MH-60S and TH-57B/C helicopters and the T-34C aircraft.  His awards include the Defense Meritorious Service Medal, Navy and Marine Corps Commendation Medal (4), Navy and Marine Corps Achievement Medal (2), and other unit and campaign awards.